Details
Built to breathe, this Lightweight cycling jersey is engineered for riding in hot and humid conditions. Signature premium DeanSilk fabric on front is soft, highly elastic and conforms to your body shape. Technical DeanDot fabric extends across the upper back panel and sleeves, which aids freedom of movement and ventilation. Fan-shaped mesh under the lower back panel promotes airflow allowing for optimum temperature regulation. Italian MARC waistband holds the jersey securely in place.
Features
Low cut collar
Seamless sleeve hems
Classic set-in sleeves articulated for perfect fit on the bike
Italian MARC Waist Band
YKK vislon zipper with MONTON icon puller
Reinforced 3 back pockets with a bonus zippered security pocket
Reflective trim adds visibility in low light conditions
22°-40°C / 72°-104°F
DeanSilk: 88% polyester /12% Elastane, 120-130GSM
Fan-shaped mesh: 82% polyester /18% Elastane, 100GSM
DeanDot: 85% polyester /15% Elastane, 130GSM
With proven URBAN+ green padding, the Skull Monton bib shorts are packed full of features. The durable embossed fabric at the leg side panel decorated with logo and icon printing. An improved seamless Italian Carvico® Renew Prime bib straps which is made of a ECONYL® regenerated Nylon. Thanks to its elastic memory, Renew Prime doesn't curl when used for the creation of hyper comfortable, free cut, seamless items.
High build quality Italian made M.AR.C. grippers on leg openings to comfortably hold in place.
The main panel 8020Lycra is a breathable, stretchy knit textile which is quick to dry, fast to wick. Reflective elements on back panel for dim light environment riding.
Features
- Durable 4 way stretch 8020Lycra with high compression for enhanced comfort and muscle support
- Urban+ comfortable green padding chamois
- Italian Carvico® Renew Prime: Seamless Strap
- Italian made M.AR.C. leg grippers
- 8020Lycra: 82% Nylon, 18% Elastane
- Embosssed Lycra denser knit: 72% Nylon, 28% Elastane
- Fan-shaped mesh: 82% Polyester, 18% Elastane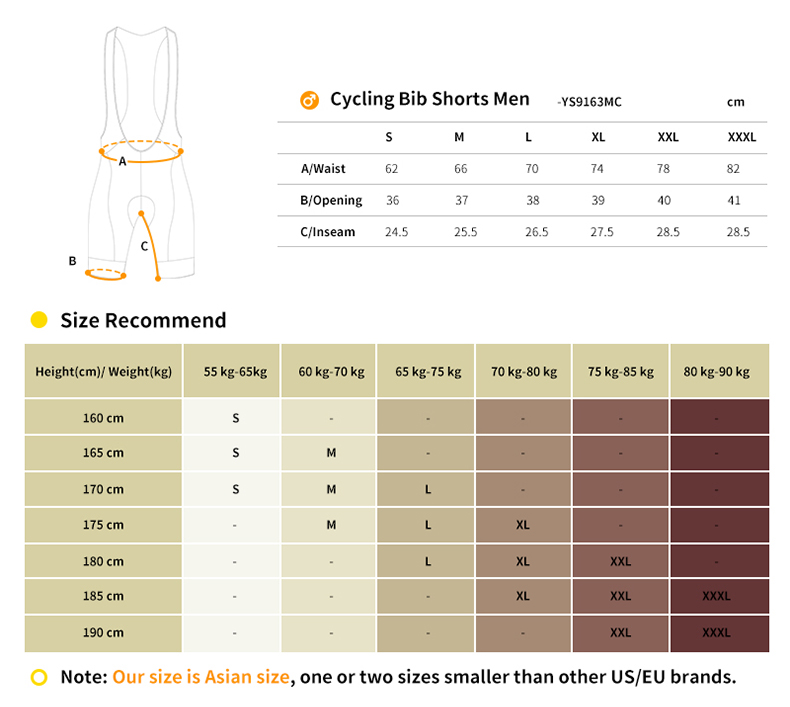 YS9470M cycling jersey sizing recommendation

Asian S/ EU XS
Asian M/ EU S
Asian L/ EU M
Asian XL/ EU L
Asian XXL/ EU XL
Asian XXXL/ EU XXL
Marouane
Height: 178cm
Weight: 64kg
Chest: 87cm
Waist: 74cm
Ricardo
Height: 171cm
Weight: 70kg
Chest: 96cm
Waist: 83cm
Alex
Height: 181cm
Weight: 76kg
Chest: 94cm
Waist: 87cm
Sinisa
Height: 192cm
Weight: 90kg
Chest: 95cm
Waist: 82cm
Krystosiak
Heigh: 186cm
Weight: 86kg
Chest: 108cm
Waist: 94cm
XXXL
Quentin
Height: 166cm
Weight: 54kg
Chest: 87cm
Waist: 76cm
Julio
Height: 174cm
Weight: 67kg
Chest: 89cm
Waist: 84cm
Thomas
Heigt: 182cm
Weight: 80kg
Chest: 96cm
Waist: 83cm
Mark
Height: 193cm
Weight: 88kg
Chest: 97cm
Waist: 88cm
Marek
Height: 192cm
Weight: 89kg
Chest: 106cm
Waist: 86cm
XXXL
Alex
Height: 173cm
Weight: 66kg
Chest: 89cm
Waist: 70cm
Davide
Height: 176cm
Weight: 72kg
Waist: 83cm
Chest: 98cm
Gabriel
Height: 182cm
Weight: 75kg
Chest: 98cm
Waist: 81cm
Alonso
Height: 184cm
Weight: 75kg
Chest: 103cm
Waist: 83cm
Rodrigo
Height: 188 cm
Weight: 102 kg
Chest: 109 cm
Waist: 98 cm
XXXL
---
Customer Reviews
Top material Review by

Raven

Super light, extra strong (Posted on 7/28/2021)
Upsell Products
Regular Price: $18.00

Special Price: $8.99