Details
Cycling Jerseys Online
Fabric:
Micro-vent fabric: Front panel, back panel, back pockets
A153 Polyester Matte Jonestin Fabric: Sleeve, sleeve opening, side panel, collar
High stretch polyester jacquard mesh: under arm pit.
Auxiliary:
1. #3 brand black rubber head full length zipper
2. 1.5CM white standard elastic string
3. 2CM black edge binding cover tape
4. Hi vis reflective piping
5. MONTON epoxy brushed elastic string
Features:
- Milk Silk Fabric: used in collar, back panel, sleeve opening, back pockets. Lightweight and stretch. Great anti-uv function. Combined with Micro-vent fabric on front panel and side panel which is
thin, lightweight and breathable. Two kinds of fabric make this jersey light and perfect for summer bike riding.
- Form-fitting: Snug fit, in accordance with ergonomics.
- Sublimation printing: vibrant color and no bleeding.
- Under arm pit: High stretch polyester jacquard mesh, super breathable and comfortable.
- Three back pockets: Convenient to store energy bars and items.
- Hi vis reflective piping: To increase night riding security.
- Gripper Anti-skidding Epoxy brushed elastic string on jersey bottom.

Race Cycling Bibs for Men
Fabric:
8020 Lycra: Main Panel
HX5979: Leg Opening
High stretch polyester jacquard mesh: Braces
Auxiliary:
1. Sewing Punching Men Padding Chamois
2. Hi Vis Reflective Piping
3. MONTON brand PVC
4. MONTON size label
5. Care Label
Features:
1. 8020 Lycra on main panel (Great stretch to give a compression embrace on muscle to relieve muscle fatigue. )
2. In accordance with ergonomics, snug fit with no restrict to movement.
3. Padding: breathable, wicking, anti-bacterial, anti-fungal. Surface with punching foam to increase breathability while padding with high dense foam to give comfortable support.
4. Braces: stretch mesh with Lycra edge binding cover tape.
5. Sewing: Three-needle five-threads sewing to ensure a durable structure and decrease the friction between fabric and skin.
2017 RACE Bibs for Men

Monton Short Sleeve Cycling Jersey Size Chart
A: Chest (Side Seam to Side Seam)
B: Forepart Length
C: Center Back Length
D: Top shoulder seam to the cuff
Measured with Jersey Lying Flat
Cycling Jersey Size Chart

XS
S
M
L
XL
XXL
XXXL
A/Chest
/
92/cm
96/cm
100/cm
105/cm
110/cm
115/cm
B

/Front

/
55.5/cm
57.5/cm
59.5/cm
61.5/cm
63.5/cm
65.5/cm
C

/Back

/

62/cm
64/cm
66/cm
68/cm
70/cm
72/cm
D

/Sleeve

/

36.5/cm
37.5/cm
38.5/cm
39.5/cm
40.5/cm
41.5/cm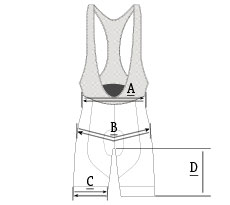 Monton Cycling Bib Shorts Size Chart
A: Waist (Side Seam to Side Seam)
B:Hip (V shape measurement)
C: Leg Opening (Lying flat, side seam to side seam)
D: Inner Width
Lycra
High dense foam chamois
High Stretch
Measured with shorts Lying Flat
Cycling Bib Shorts Size Chart

XS
S
M
L
XL
XXL
XXXL
A/Waist
/
62/cm
66/cm
70/cm
74/cm
78/cm
82/cm
C

/Opening

/

34/cm
35/cm
36/cm
37/cm
38/cm
39/cm
D

/Inner Width

/

18.5/cm
19.5/cm
20.5/cm
21.5/cm
22.5/cm
23.5/cm