Details
2017 Top Cycling Bib Shorts
Fabric:
1. Italy MITI ACTION: Side panel, middle of the back.
2. Nylon + Denser Lycra: Patch on the waist.
3. Embossing nylon+ denser lycra: Crotch patch.
4. FLUORITE: middle of the back braces, leg opening patch.
5. Brushed anti-skidding braces: straps.
Auxiliary:
1. Italy soft elastic band.
2. Italy TM chamois padding.
3. New MONTON letters reflective printing 14CM.
4. MONTON silver size printing.
5. Care label.
Features:
1. Embossing Nylon+denser lycra: Fashionable embossing added on the Lycra has increased the quality and visual effect.
2. FLUORITE: middle of the back braces, leg opening to increase ventilation.
3. ITALY MITI ACTION W: Compact and durable with soft touch.
4. Braces: brushed anti-skidding, comfortable with great stretch.
5. Nylon + Denser Lycra on main panel: High proportion HIGH CLO SPANDEX elastic yarns give it the features of high rebound elasticity as well as compact construction. Followed with encrypted process, the fabric would be more durable. Moreover, it extends the durability and stretch of the Nylon yarns.
6. The TM Armadillo pad insert foam is made with a special pressed line system, designed and created in various levels and heights. It is able to guarantee and facilitate the movements of torsion, inclination, compression and extension for the athlete during racing. The insert Armadillo combined with Technology TMirror, supported by the shape of the lunettes with the system HT90 and tested by a wide range of athletes, allows Teo Sport to propose a revolutionary new solution.
7. Italy soft elastic band on leg opening: Anti-skidding apparessed lightweight band with no chaffing.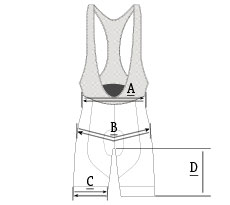 Monton Cycling Bib Shorts Size Chart
A: Waist (Side Seam to Side Seam)
B:Hip (V shape measurement)
C: Leg Opening (Lying flat, side seam to side seam)
D: Inner Width
Lycra
High dense foam chamois
High Stretch
Measured with shorts Lying Flat
Cycling Bib Shorts Size Chart

XS
S
M
L
XL
XXL
XXXL
A/Waist
/
61/cm
65/cm
69/cm
73/cm
77/cm
81/cm
C

/Opening

/

36/cm
37/cm
38/cm
39/cm
40/cm
41/cm
D

/Inner Width

/

24/cm
25/cm
26/cm
27/cm
28/cm
29/cm
Customer Reviews
Very comfortable but priced a little high. The chamois makes 80 miles comfortable. I'm 5'10" 175 and the large just fits. (Posted on 1/17/2018)
Excellent materials, especially the comfortable power band, chamois and suspenders. I'm 5'11 205lbs 34 waist and went with xl. Fit fine. 205 mile race and no chaffing. (Posted on 1/1/2018)
Very high quality pair of bib shorts. Height 6'0" Weight 180 lbs, purchased a X-Large. The straps are comfortable and held the shorts up. Well padded and extremely comfortable chamois. It would be perfect if it could be priced within 100USD. (Posted on 1/1/2018)
I'm 6' 250 pounds, 36 waist. Got the XXL and it fits PERFECT! I've put about 350 miles on these bibs since I got them last month. The silicone grippers are a nice touch. I can barely feel the shoulder straps. Excellent chamois. I use them in Puerto Rico where the weather is mostly hot and humid, and I don't feel like overheat. I'd definitely recommend these. (Posted on 10/15/2017)
Comfortable bib shorts. The chamois is really well padded. The shoulder straps are super great material. No bunch on the shoulders. Recommend for long rides. (Posted on 9/18/2017)