Details
Women's Cycling Jersey
Fabric:
Persia Fabric: Front & Back Panel + Side Panel + Collar
Shell Mesh: Under Arm Pit
Italy Soft Elastic Band: Sleeve opening
Lightweight compound windbreaker fabric: Inner pocket cloth
Auxiliary:
1. Italy Soft Elastic Band
2. #3 brand black rubber head full length zipper
3. Micro-fiber zipper cover tape
4. Edge binding cover tape with no ruffle
5. MONTON epoxy brushed elastic string
6. Edge binding cover tape
7. Standard white elastic string
8. Hi vis reflective piping
9. #3 invisible zipper head
Features:
- Persia Fabric Features: Lightweight, great wicking ability, breathable, antifungal and antibacterial performance. Great embrace around the muscles to give a great performance in cycling.
- Form-fitting: comfortable snug fit, V collar design in accordance with ergonomics.
- Shell mesh: under Arm pit, durable and great ventilation.
- Sublimation printing: vibrant color with no bleeding.
- Italy soft elastic band: stretch, comfortable and anti-skidding.
- Hi vis reflective piping: under back pockets to increase night riding security.
- Epoxy brushed elastic string: back jersey hem to keep it stay in riding.
2017 PRO Cycling Bibs for Women
Fabric:
1. Nylon + Denser Lycra: Main Panel
2. KITI: Braces
3. 4.5CM Italy Soft Elastic Band: Leg Opening
Auxiliary:
1. Italy Soft Elastic Band
2. EVO women mini chamois padding
3. Hi vis reflective piping
4. MONTON brand PVC
5. MONTON size label
6. Care label
Features:
- Embossing Nylon + Denser Lycra: Fashionable embossing added on the basis of Nylon + Denser Lycra advantages. Great visual upgrade on the whole piece of pants.
- Nylon + Denser Lycra on main panel: High proportion HIGH CLO SPANDEX elastic yarns give it the features of high rebound elasticity as well as compact construction. Followed with encrypted process, the fabric would be more durable. Moreover, it extends the durability and stretch of the Nylon yarns.
- 3D shaping cut: In accord with ergonomics, form fitting and protect the muscle from muscle strain.
- EVO women mini chamois padding: Wicking and anti-bacterial. High quality 80G/M2 dense foam could meets the - daily riding needs with no problems. Delicate sewing make it durable and comfortable.
- Italy soft elastic band on leg opening: Anti-skidding apparessed lightweight band with no chaffing.
- Reflective piping: Increase night riding visibility.
- Sewing workmanship: Simple design with four-needle six-thread sewing to make it durable, no chaffing or skin stimulus.


Monton Short Sleeve Cycling Jersey Size Chart
A: Chest (Side Seam to Side Seam)
B: Forepart Length
C: Center Back Length
D: Top shoulder seam to the cuff
Measured with Jersey Lying Flat
Cycling Jersey Size Chart

XS
S
M
L
XL
XXL
XXXL
A/Chest
/
80/cm
84/cm
88/cm
93/cm
98/cm
103/cm
B

/Front

/
52/cm
54/cm
56/cm
58/cm
60/cm
62/cm
C

/Back

/

57/cm
59/cm
61/cm
63/cm
65/cm
67/cm
D

/Sleeve

/

28/cm
29/cm
30/cm
31/cm
32/cm
33/cm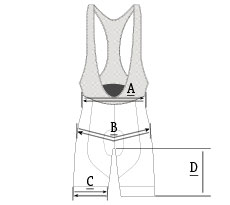 Monton Cycling Bib Shorts Size Chart
A: Waist (Side Seam to Side Seam)
B:Hip (V shape measurement)
C: Leg Opening (Lying flat, side seam to side seam)
D: Inner Width
Lycra
High dense foam chamois
High Stretch
Measured with shorts Lying Flat
Cycling Bib Shorts Size Chart

XS
S
M
L
XL
XXL
XXXL
A/Waist
/
58/cm
62/cm
66/cm
70/cm
74/cm
78/cm
C

/Leg Opening

/

19/cm
19.5/cm
20/cm
20.5/cm
21/cm
21.5/cm
D

/Inner Width

/

8/cm
9/cm
10/cm
11/cm
12/cm
13/cm
Customer Reviews
Super awesome Review by

Debbie Garlock

This kit is super awesome. Many compliments! The jersey and shorts fit nicely and the design and colors are stylish. I am 5'2" and weigh 120 and medium is just right. (Posted on 1/22/2018)