Details
Best Cycling Bib Shorts
Great summer cycling bib shorts. Super comfortable and fits nice. Makes your riding much more comfortable.
1. Polyamide + Lycra
2. White Polyester Mesh Jacquard
3. Black Polyester Mesh Jacquard
4. EB1 Elastic band
1. Lycra strip
2. EVO Men's Sewing Padding
3. MONTON Black Yellow Size label
4. Lycra wash label
5. 5CM round reflective piping
- Polyamide + Lycra: High proportion HIGH CLO SPANDEX elastic yarns give it the features of high rebound elasticity as well as compact constructure. Followed with encrypted process, the fabric
would be more durable. Moreover, it extends the durability and stretch of the Nylon yarns.
- 3D shaping cut: In accord with ergonomics, form fitting and protect the muscle from muscle strain.
- Padding: Sewing punching pad in brushed polyamide fabric, wicking and anti-bacterial. The first layer is punching foam to increase breathability. High quality 80G/M2 dense foam could meets the - daily riding needs with no problems. Delicate sewing make it durable and comfortable.
- Strip: Unique transferred printing design with super stretch Elastic mesh covered with Lycra edge binding.
- Elastic band on leg opening: Anti-skidding apparessed lightweight band with no chaffing.
- Reflective piping: Increase night riding visibility.
- Sewing workmanship: Simple design with four-needle five-thread sewing to make it durable, no chaffing or skin stimulus.
Strip: Mesh covered with high stretch Lycra, super stretch

Durable Three-needle Five-threads workmanship

Durable double layer compound fabric

Hi vis reflective piping to increase night riding security

High dense multi-layer foam chamois padding with 80G/M2 density to meet the daily riding demands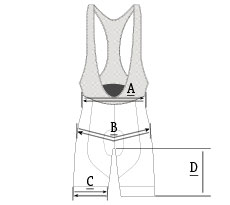 Monton Cycling Bib Shorts Size Chart
A: Waist (Side Seam to Side Seam)
B:Hip (V shape measurement)
C: Leg Opening (Lying flat, side seam to side seam)
D: Inner Width
Lycra
High dense foam chamois
High Stretch
Measured with shorts Lying Flat
Note: Our size is Asian size, one or two sizes smaller than other US/EU brands
Cycling Bib Shorts Size Chart

XS
S
M
L
XL
XXL
XXXL
A/Waist
/
60/cm
64/cm
68/cm
72/cm
76/cm
80/cm
C

/Opening

/

35/cm
36/cm
37/cm
38/cm
39/cm
40/cm
D

/Inner Width

/

21.5/cm
22.5/cm
23.5/cm
24.5/cm
25.5/cm
26.5/cm
Customer Reviews
Very decent bib shorts Review by

Colin R Hof

Very decent bib shorts. The straps are breathable and some what elastic. The foam padding provide great comfort. They compress really well. No big soreness after a 180KM riding. (Posted on 1/4/2017)
Upsell Products
Regular Price: $155.98

Special Price: $77.99

Regular Price: $247.98

Special Price: $123.99

Regular Price: $247.98

Special Price: $123.99