Details
2016 Best Cycling Jersey Bib Set
Cycling jersey bib set with high quality YKK zipper. Material keeps you cool and pockets at back is an easy access.
Cycling Jersey Features
1. A109 Grid Jacquard: Main Panel
2. EB1 Elastic Band: Front Panel Hem
3. A153 Poly-Matte Jonestin: Cuff
4. 30D White multispandex + TPU coated (black): Inner rear pockets
1. 3# brand black rubber head full length zipper
2. 1CM edge binding cover no ruffle
3. 1.5CM white standard elastic string
4. 3# brand iron head zipper
5. Hi Vis Reflective Piping
6. Microfiber zipper tape
7. MONTON epoxy brushed elastic band
8. MONTON black yellow size label
9. Mesh wash label

- Main Fabric: Grid Jacquard. This unique fabric owns the rebound elasticity as Lycra as well as super wicking ability. The compact structure of the fabric make it breathable as well as easy
to print on with vibrant colors. It is a kind of fabulous fabric for sports. In hot summer days, this jersey would keep you cool and dry to the optimum.
- Form-fitting: Taking the riding bent over bike into consideration, comfortable to ride on with no restrictive.
- Details: Thermal transfer printing of vibrant colors
- Cuff: A153 Polyester Matte Jonestin: nice rebound elasticity and durable
- Three deep rear pockets: Middle one with zipper and waterproof
- Reflective piping: Increasing the visibity of night riding
- Hem: No restrictive pressure on abdomen while brushed epoxy elastic band on back hem
Best looking cycling jersey

Best Long Distance Cycling Bib Shorts
Fabric:
1. Polyamide + Lycra
2. White Polyester Mesh Jacquard
3. Black Polyester Mesh Jacquard
4. EB1 Elastic band
Material:
1. Lycra strip
2. EVO Men's Sewing Padding
3. MONTON Black Yellow Size label
4. Lycra wash label
5. 5CM round reflective piping
6. PVC Mark
Features:
- Polyamide + Lycra: High proportion HIGH CLO SPANDEX elastic yarns give it the features of high rebound elasticity as well as compact constructure. Followed with encrypted process, the fabric
would be more durable. Moreover, it extends the durability and stretch of the Nylon yarns.
- 3D shaping cut: In accord with ergonomics, form fitting and protect the muscle from muscle strain.
- Padding: Sewing punching pad in brushed polyamide fabric, wicking and anti-bacterial. The first layer is punching foam to increase breathability. High quality 80G/M2 dense foam could meets the - daily riding needs with no problems. Delicate sewing make it durable and comfortable.
- Strip: Unique transferred printing design with super stretch Elastic mesh covered with Lycra edge binding.
- Elastic band on leg opening: Anti-skidding apparessed lightweight band with no chaffing.
- Reflective piping: Increase night riding visibility.
- Sewing workmanship: Simple design with four-needle five-thread sewing to make it durable, no chaffing or skin stimulus.
2016 Best Cycling Bib Shorts

High dense multi-layer foam chamois padding with 80G/M2 density to meet the daily riding demands

Monton Short Sleeve Cycling Jersey Size Chart
A: Chest (Side Seam to Side Seam)
B: Forepart Length
C: Center Back Length
D: Top shoulder seam to the cuff
Jonestin + A109 Fabric for Jersey
Snug Fit
super wicking, quick dry, Stretch
Measured with Jersey Lying Flat
Note: Our size is Asian size, one or two sizes smaller than other US/EU brands
Cycling Jersey Size Chart

XS
S
M
L
XL
XXL
XXXL
A/Chest
/
92/cm
96/cm
100/cm
104/cm
108/cm
112/cm
B

/Front

/
58/cm
60/cm
62/cm
64/cm
66/cm
68/cm
C

/Back

/

63/cm
65/cm
67/cm
69/cm
71/cm
73/cm
D

/Sleeve

/

34/cm
35/cm
36/cm
37/cm
38/cm
39/cm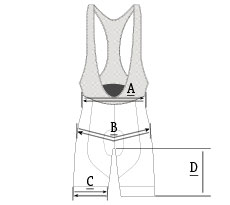 Monton Cycling Bib Shorts Size Chart
A: Waist (Side Seam to Side Seam)
B:Hip (V shape measurement)
C: Leg Opening (Lying flat, side seam to side seam)
D: Inner Width
Lycra
High dense foam chamois
High Stretch
Measured with shorts Lying Flat
Note: Our size is Asian size, one or two sizes smaller than other US/EU brands
Cycling Bib Shorts Size Chart

XS
S
M
L
XL
XXL
XXXL
A/Waist
/
60/cm
64/cm
68/cm
72/cm
76/cm
80/cm
C

/Opening

/

35/cm
36/cm
37/cm
38/cm
39/cm
40/cm
D

/Inner Width

/

21.5/cm
22.5/cm
23.5/cm
24.5/cm
25.5/cm
26.5/cm
Customer Reviews
Cool and well made. Fit is small and delivery is slow. I ordered Large, this fits too tight for me. (Posted on 6/1/2017)
Awesome of the design. The quality is good, especially the leg grippers. Fit fine when riding, but some extra fabric in the belly area when riding. Satisfied with the experience. (Posted on 3/14/2017)
Great jersey and bib. It's a race cut which means you better be fit or it would be tight. I'm 5'8" and weigh 165 lbs so I ordered a large and it fit fine. (Posted on 3/5/2017)
Pro style fit. Great quality for the price. The bottoms are well padded. And the top is light weight and little tight around the arms. Just what I was looking for. (Posted on 2/19/2017)
Great look and feel. Jersey is breathable perfect for summer heat riding. Padded bibs no problem in two hour riding.  I am 6'1 172 athletic build, Large fit fine. Shipping took a little long than expected about 16 days to USA. (Posted on 1/12/2017)
I am 6'3" and 225 lbs, XXXL fits fine. The padding in this bib is very nice and sewn in the correct place. Jersey is incredible light and breathable. Quick dry and washes well. (Posted on 7/7/2016)